Hey all,

 

As we move into week 4, we begin to get down to the nitty gritty at the business end of the competition, with 28 teams on the plane home, and only the 4 best teams in the world remaining. 

 

I fancy one of those stunning little Spanish Villas

The most watched game of the past week was the Iberian second-round derby between Spain and Portugal, reaching over 6.8 million viewers, making it the second most-watch non-England game of the World Cup so far. For some bizarre reason, the only non-England match with a higher audience than this was the Germany Australia match way back at the beginning of the tournament, which received a slightly higher 6.9 million viewers (Obviously the "West-London viewing" factor must have been huge).

 

For the Spain vs. Portugal match, the gender split was a nice round 60% male and 40% female and in terms of ABC1's, they made up 49% of the male audience.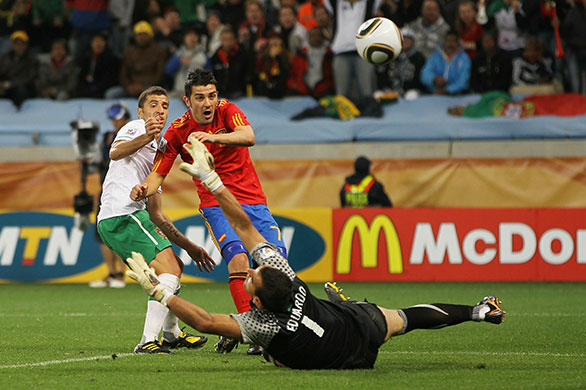 Not only do European Champions Spain have the top scorer on the pitch in this tournament with David Villa (pictured above) but they are also the top non-English scorers off the pitch, with an average audience of 5.2 million viewers per match, closely followed by the Brazilians who averaged 5 million viewers per match.

 

In terms of overall viewing, it has remained relatively stable compared with the previous rounds, with afternoon matches ranging between 2-2.5 million viewers and evening matches receiving audiences between 6 and 7 million strong. The one exception to this was the Argentina vs. Germany match, which attracted almost 5 million viewers on Saturday afternoon, and reflected the same demographic trends as the Spain vs. Portugal match.

 

Hands Up if you want to win the World Cup

The other major talking point of the week was the controversial finish to the Uruguay vs. Ghana quarter-final, which was watched by 6.2 million viewers and has sparked raging debates across the worlds of TV/Internet and press.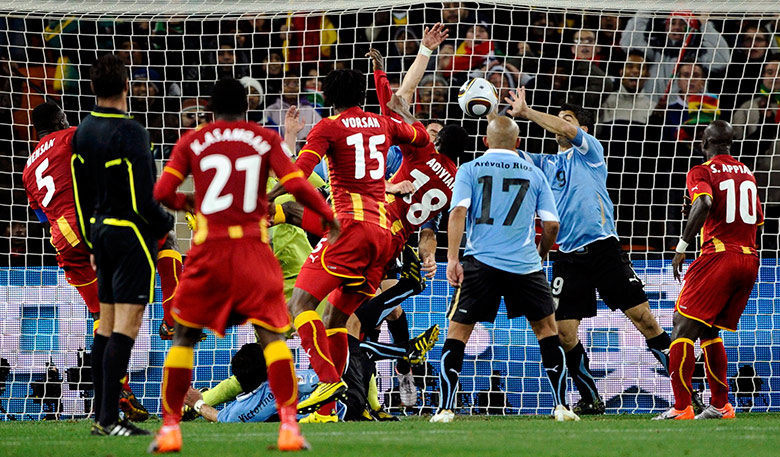 On Friday night, the incredible goalkeeping skill of Uruguayan striker Suarez set people all over twitter and facebook into overdrive, as the hero vs villain debate kicked-off and everyone had their say on the matter. Below you can see the spike in tweets on Friday night and the huge global increase in search terms for the Uruguayan striker's now infamous name, as well as the UK figures reflecting the global trend. Not surprisingly, Uruguay was the country with the largest uplift in terms of Google searches, but interestingly, their next opponents The Netherlands, were the 9th highest searchers for Suarez. On Facebook, there are over 500 group results found for Luis Suarez. 

http://www.google.com/trends?q=suarez&ctab=0&geo=all&date=mtd&sort=0

http://www.google.com/trends?q=suarez&ctab=0&geo=gb&date=mtd&sort=0

As for the football community, Dutch goalkeeper Mark Stekelenburg, who is Suarez's teammate at Ajax, reportedly sent him a text after the game saying he was now the number 1 goalie in the world. As for Suarez himself, rumours are flying that the player claims to have single-handedly guided Uruguay through to the semi-finals, although judging by the photo, it appears more to be two-handed.

Over at SW 19

Of course the other major sporting event this week was the Wimbledon final on Sunday. Traditionally, this receives one of the highest levels of viewing for a sporting event every year. This year however, viewing numbers were markedly lower than 2009. Last year the final was watched by almost 9 million viewers, whereas this year, the men's final attracted only 4.85 million viewers.  Several factors, including the sunshine, the lack of Rodger Federer's presence in the final for the first time since 2002 and no British representation yet again, along with the fact that most people will have been concentrating on the footy for most of the last two weeks most likely contributed to the decrease in viewing figures.

 

Not that this will bother Rafael Nadal. Also rather ominously, the last time he was crowned Wimbledon champion, Spain went on to win Euro 2008. If there is indeed any sort of correlation between the two, let's hope Andy Murray can win at SW 19 in 2012!

 

Duncan